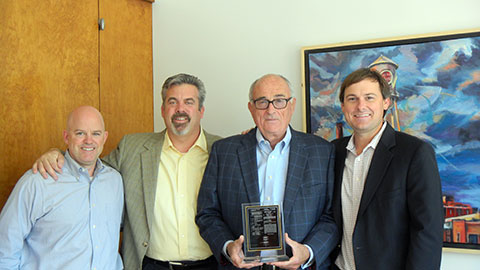 TV Everywhere is the way of the future.
Actually, that future is already here.
Today, viewers want to be able to watch television where they want, when they want, and on whatever device they elect. We have already discussed why this can be problematic for networks with affiliate station business models.
But for TotalCast and Capitol Broadcasting Company, the journey to today's future started in the past.
Back in 2007, well before live streaming of television to mobile devices became the entity it is today, CBC filed for patents. They actually requested two as such:
A system and method for delivering geographically restricted content, including but not limited to over-air broadcast programming to a recipient over a computer network, namely the Internet. The content is only delivered over the computer network if the recipient's computer or network device requesting the content over the network is verified to be located in the geographically restricted area.
CBC, as a major broadcaster with loyal ties to its community, knew that a time was coming when TV Everywhere would be complicated for network affiliates. They understood that geographically knowing where a viewer was would be critical to delivering the sports, primetime and syndicated content the public wanted while also serving them the community news they needed. They were on a hunt to deliver technology that would provide it all.
Seven years later, years filled with patience, diligence, and hard work, CBC was awarded the patents.
The five CBC inventors include CBC President & CEO Jim Goodmon, CBC New Media Vice President & General Manager Jimmy Goodmon, WRAL-TV Director of Engineering & Operations Pete Sockett, former CBC Vice President of Special Projects John Greene, and former WRAL.com General Manager John Clark.
"Our goal is to use these patents as part of an evolving media landscape where more and more content is moving to the internet," said Sam Matheny, former VP of Policy and Innovation and current CTO for the National Association of Broadcasters. "Jim has long believed that we should be able to deliver our content over the internet as long as we keep it in our market."
TotalCast was born and pursued by broadcasters for broadcasters. Instead of waiting for someone else to develop a product to address a complicated need, CBC saw years ago that something needed to be done.
Using innovation, forethought, and an understanding of their industry, they raced to make TotalCast.
Yet TotalCast isn't restricted to CBC's use alone. In fact, as the technology has come to grow and become exceptional, CBC is working with MVPDS, sports network and network affiliates that need the geo-location technology.
There is a way for affiliates to be powerful and adjust to the future. It all starts with TotalCast and the foresight CBC had in the past.
Distribute your Channel to Mobile Devices.